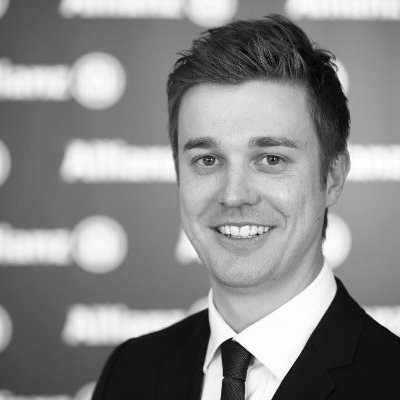 About Florian:
Position in the GDF: Head of Product Design & Optimization 

Company: Allianz Technology, Global Digital Factory 

In these days it is en vogue to design and implement customer journeys within in an organization by introducing and applying customer centric and agile approaches like Design Thinking, Scrum, Kanban & Co. But there is no gain without pain: For the successful design, implementation and the operations of customer journeys, it requires a strategic rethink and realignment of the organization.
The establishment of a proper framework is not just a change, it is a transformation over time. It is not about implementing finite initiatives, which cut across the organization. It is about revising the organization and to establish a new business model for the future, affecting the strategy, organization, daily procedures, leadership style and employees' skill and capability profiles. 
For a successful transformation organizations need to...:

Step into the customer's shoes to get into the customer's mindset. Start thinking in Customer Journey, apply Customer Centric and insights driven approach: Explore and validate. #DesignThinking #CustomerJourney

Find a balance between optimization and innovation. It is not about doing one or the other, it is about finding the balance. #Innovation #ProductRoadmap

Organize team(s) around products, services and corresponding IT systems & platforms. Evolve from Project- to Product-Thinking towards an integrated, cross functional operating model. #ContinuousImprovement #LeanStartup

Establish a flexible and productive environment as a catalyst for agile working mode. It is not about office space and Post-Its, but focusing on and refining key processes, eliminating waste along entire value streams. #LeanOrganization #AgileManifesto

Adjust the existing skill-mix and corespondent career model(s). Organizations require complementing (new) roles and corresponding career paths in both dimensions, development opportunities and compensation. #DigitalCareers

Empower the team(s) and foster a collaborative leadership style. The manager is dead, long live the leader. Empower the team(s), work with vetos instead of approvals to speed up processes. #AgileLeader

As if the above mentioned, directly - of course over time - influenceable areas were not challenging enough, the success relies also on a more soft element, which cannot be influenced directly by the management: the culture. An organization needs to build up a culture of entrepreneurship, fostering change and learning agility... and here... the human factors comes in. This is where the startup culture meets the corporate universe:
Mission based meets strategical approach
Flat structure meets hierarchy and silos
Dynamic and pragmatism meets processes and governance
A clash of cultures! But it is not about the one or the other, it is not A versus B. It needs to be seen as...:
Complementary, when it comes to people, skills, capabilities and corresponding mindsets: For the exploration/ design of digital products and services it takes the (more) new roles and a customer centric mindset, for the build it takes Agile/Scrum skills and for the run/change part it takes people experienced in sustainable software development familiar with large scale organizations
Evolutionary, when it comes to organization and structures: over time organizations need to put a minimum of structures, hierarchies and processes in place.
It is for sure, the encounter of these paradigms creates frictions. Mastering this balancing act is the trickiest part and at the same time crucial for the success!  This transformation is no longer a destination, it has become a continuous journey. 
Any questions? Get in touch with Florian! Join us on Linkedin to not miss any updates! 
Related Articles & Links: